PERFIL SOCIOECONÔMICO, FARMACOTERAPIA ORAL PARA CÂNCER DE MAMA E SUA ADESÃO AO TRATAMENTO
Socioeconomic profile, oral pharmacotherapy for breast cancer and its adherence to treatment
Vera Regina Andrade

Universidade Regional Integrada do Alto Uruguai e das Missões

Bruna Antunes dos Santos

Universidade Regional Integrada do Alto Uruguai e das Missões
Palavras-chave:
Neoplasias da Mama, Quimioterapia, Tamoxifeno, Adesão ao Tratamento
Resumo
O objetivo foi analisar o perfil socioeconômico, farmacoterapia antineoplásico via oral e adesão ao tratamento por mulheres com câncer de mama. Trata-se de pesquisa descritiva, transversal, de abordagem quantitativa. Participaram 15 mulheres com diagnóstico de câncer de mama em hormonioterapia com tamoxifeno, que recebiam tratamento pelo Sistema Único de Saúde na farmácia da Secretaria Municipal de Saúde de Santo Ângelo, RS, Brasil. Dados coletados para o perfil da paciente: problemas de saúde/patologias/queixas; farmacoterapia antineoplásico via oral/reações adversas; adesão ao tratamento. A idade média das participantes (n=15) foi 58,7 anos, 40% tinham ensino médio completo, 40% estavam com sobrepeso, 87% moravam com familiares, 60% descobriram o câncer de mama em estágio avançado, 53,3% por meio da mamografia, 40% por autoexame das mamas e 73,3% têm mais de cinco anos de tempo de diagnóstico. Quanto ao estado clínico atual e qualidade de vida, a maioria relatou ter melhor qualidade de vida e melhor estado de saúde imaginável. Quanto à terapia medicamentosa, 86,7% faziam uso de tamoxifeno. Em relação à adesão, a maioria apresentou adesão. Como parte da responsabilidade do tratamento por via oral é do paciente, a maioria das mulheres do presente estudo mostrou que cumpre com as orientações dos profissionais de saúde, acarretando em adesão ao tratamento quimioterápico.
PALAVRAS-CHAVE: Neoplasias da Mama. Quimioterapia. Tamoxifeno. Adesão ao Tratamento.
Abstract
The objective was to analyze the socioeconomic profile, oral antineoplastic pharmacotherapy and treatment adherence by women with breast cancer. It's about descriptive, cross-sectional research with a quantitative approach. Participated 15 women diagnosed with breast cancer on hormone therapy with tamoxifen, who were being treated by the Unified Health System, at the Santo Ângelo Municipal Health Pharmacy, RS, Brazil. Data collected for the patient's profile; health problems / pathologies / complaints; antineoplastic pharmacotherapy by mouth/adverse reactions; adherence to treatment. The average age of the participants (n = 15) was 58.7 years, 40% had completed high school, 40% were overweight, 87% lived with family members, 60% discovered advanced breast cancer, 53.3 % through mammography 40% through breast self-examination and 73.3% have more than five years of diagnosis. As for the current clinical status and quality of life, the majority reported having a better quality of life and better health status imaginable. As for drug therapy, 86.7% used tamoxifen. Regarding adherence, the majority showed adherence. As part of the responsibility for oral treatment lies with the patient, most of the women in this study showed that they comply with the guidelines of health professionals, resulting in adherence to chemotherapy treatment.
KEYWORDS:  Breast Neoplasms. Drug Therapy. Tamoxifen. Treatment Adherence.
Resumen
El objetivo era analizar el perfil socioeconómico, la farmacoterapia antineoplásica oral y la adherencia al tratamiento en mujeres con cáncer de mama. Se trata de investigación descriptiva, transversal enfoque cuantitativo. Participaron 15 mujeres diagnosticadas con cáncer de mama en terapia hormonal con tamoxifeno, que fueron tratadas por el Sistema Único de Salud, farmacia Secretaría Municipal de Salud de Santo Ángelo, RS, Brasil. Datos recopilados para el perfil del paciente; problemas de salud/patologías/quejas; farmacoterapia antineoplásico vía oral/reacciones adversas; adherencia al tratamiento. La edad promedio de las participantes (n = 15) fue de 58.7 años, 40% había completado la escuela secundaria, 40% tenía sobrepeso, 87% vivía con miembros de la familia, 60% descubrió cáncer de seno avanzado, 53.3 % mediante mamografía 40% mediante autoexamen de mamas y 73,3% tienen más de cinco años de diagnóstico. En cuanto al estado clínico actual y la calidad de vida, la mayoría informó tener una mejor calidad de vida y un mejor estado de salud imaginable. En cuanto a la terapia farmacológica, el 86,7% usaba tamoxifeno. En cuanto a la adherencia, la mayoría mostró adherencia. Como parte de la responsabilidad del tratamiento oral recae en el paciente, la mayoría de las mujeres en el presente estudio mostraron que cumplen con las pautas de los profesionales de la salud, lo que resulta en la adherencia al tratamiento de quimioterapia.
PALABRAS CLAVE: Neoplasias de la mama. Quimioterapia. Tamoxifeno. Adherencia al tratamiento.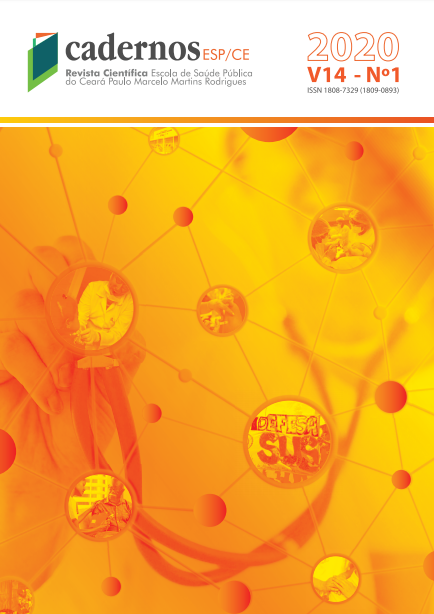 Copyright (c) 2020 Cadernos ESP
This work is licensed under a
Creative Commons Attribution-NonCommercial 4.0 International License
.