OXIGENOTERAPIA NASAL DE ALTO FLUXO EM PACIENTES COM SÍNDROME DA IMUNODEFICIÊNCIA ADQUIRIDA
HIGH FLOW OXYGEN THERAPY IN PATIENTS WITH ACQUIRED IMMUNODEFICIENCY SYNDROME
Jady Barbosa de Freitas

Hospital de Messejana Dr. Carlos Alberto Studart Gomes

Maria do Socorro Quintino Farias

Hospital de Messejana Dr. Carlos Alberto Studart Gomes / Faculdade Estácio do Ceará

Emília Maria Matos Rocha

Hospital de Messejana Dr. Carlos Alberto Studart Gomes

Dyély de Carvalho Oliveira Campos

Faculdade FANOR

Emanuelle Sales Oliveira Pinho

Hospital de Messejana Dr. Carlos Alberto Studart Gomes / Hospital Regional da Unimed

Gezabell Rodrigues

Hospital de Messejana Dr. Carlos Alberto Studart Gomes

Marilce Ferreira Farias

Hospital de Messejana Dr. Carlos Alberto Studart Gomes
Abstract
Avaliar a Oxigenoterapia Nasal de Alto Fluxo (ONAF) em pacientes com AIDS/HIV. Estudo documental retrospectivo, envolvendo pacientes com diagnóstico de AIDS/HIV que necessitaram da ONAF. As variáveis analisadas foram: gasometria arterial (pH, PaO2, PaCO2, HCO3 e Lactato), frequência cardíaca (FC), Saturação periférica de oxigênio (SpO2), frequência respiratória (f), índice de oxigenação (IO), dias de internação na unidade de terapia intensiva (UTI) e Acute Physiology and Chronic Health Evaluation II (APACHE II). Amostra composta por 14 pacientes, sendo 12 do sexo masculino (85,7%), com idade média de 41,54 ± 4,74. Obtiveram uma média de Apache II de 12,23±4,14, com risco de óbito variando de 5,8% a 24% no momento da admissão na UTI e o tempo de internação dos indivíduos foi em média 11,78 ± 1,89 dias. Os valores encontrados foram: f (34,61±8,52 / 26,07±4,78 – p= 0,00), PaO2 (87,28 ± 32,07/ 110,42±44,64 – p= 0,10), SpO2 (94,38 ± 4,09 / 97,38 ± 2,10 – p= 0,00), IO (175,11± 65,24 / 211,02 ±114,92 – p= 0,67) antes e após a ONAF, respectivamente. Conclui-se que a terapia ONAF proporcionou redução da f e SpO2, além de ter prevenido a intubação orotraqueal.
ABSTRACT
Acute respiratory failure is a common complication in immunocompromised patients, also, the mortality rates is associated with endotracheal intubation. Objective: to evaluate the High-flow nasal oxygen (HFNO) in SIDA / HIV patients. Retrospective study involving the diagnosis of SIDA/HIV that require HFNO. The variables analyzed were: arterial blood gases (pH, PaO2, PaCO2, HCO3 and lactate), Heart Rate (HR), oxygen saturation (SpO2), respiratory rate(RR), oxygenation index, days of stay in the intensive care unit (ICU) and Acute Physiology and Chronic Health Evaluation II (APACHE II). The sample was composed by 14 patients, 12 of then were male (85.7%), with a average age of 41.54 + - 4.74. They obtained an average of Apache II of 12.23 + - 4.14; death risk varying from 5.8% to 24% at the time of admission of the ICU and the length of stay of the individuals was on average 11.78 + 1.89 days. Results: f (34,61±8,52 / 26,07±4,78 – p= 0,00), PaO2 (87,28 ± 32,07 / 110,42±44,64 – p= 0,10), SpO2 (94,38 ± 4,09 / 97,38 ± 2,10 – p= 0,00), IO (175,11± 65,24 / 211,02 ±114,92 – p= 0,67) before and after HFNO respectively. HFNO therapy reduced the respiratory rate and SpO2, in addition to preventing orotracheal intubation.
Keywords: Respiratory Insufficiency. Oxygen Inhalation Tharapy. Acquired Immunodeficiency Syndrome.
RESUMEN
La insuficiencia respiratoria aguda es una complicación común en pacientes inmunodeprimidos, además, las tasas de mortalidad se asocian con endotraqueales intubación. Evaluar el oxígeno nasal de alto flujo (HFNO) en pacientes con SIDA / VIH. Metodología: estudio retrospectivo que involucró el diagnóstico de SIDA / VIH que requieren HFNO. Las variables analizadas fueron: gasometría arterial (pH, PaO2, PaCO2, HCO3 y lactato), frecuencia cardíaca (FC), saturación de oxígeno (SpO2), frecuencia respiratoria (RR), índice de oxigenación, días de estancia en la unidad de cuidados intensivos ( UCI) y Evaluación de Fisiología Aguda y Salud Crónica II (APACHE II). La muestra estuvo compuesta por 14 pacientes, de los cuales 12 eran varones (85,7%), con una edad media de 41,54 + - 4,74. Obtuvieron una media de Apache II de 12,23 + - 4,14; el riesgo de muerte variaba del 5,8% al 24% en el momento del ingreso en la UCI y la estancia hospitalaria de los individuos era en promedio de 11,78 + 1,89 días. Resultados: f (34,61 ± 8,52 / 26,07 ± 4,78 - p = 0,00), PaO2 (87,28 ± 32,07 / 110,42 ± 44,64 - p = 0,10), SpO2 (94,38 ± 4,09 / 97,38 ± 2,10 - p = 0,00), IO (175,11 ± 65,24 / 211,02 ± 114,92 - p = 0,67) antes y después de HFNO respectivamente. La terapia con HFNO redujo la frecuencia respiratoria y la SpO2, además de prevenir la intubación orotraqueal.
Palavras-Clave: Insuficiencia respiratoria. Terapia de inhalación de oxígeno. Síndrome de inmunodeficiencia adquirida.
References
Sierra S, Kupfer B, Kaiser R. Fundamentos da virologia do HIV-1 e sua replicação. J Clin Virol. 2005; 34(4): 233-44.
Miller C, Abdo Z, Ericsson A, Elder J, VandeWoude S. Applications of the FIV Model to Study HIV Pathogenesis. Viruses. 2018; 10(4):206-232.
BRASIL. Ministério da Saúde (BR). Secretaria de Vigilância em Saúde. Departamento de DST, Aids e Hepatites Virais. Boletim Epidemiológico – HIV e AIDS. Brasília (DF); 2019.
Magnabosco GT, Lopes LM, Andrade RLP, Brunello MEF, Monroe AA, Villa TCS. Assistência ao HIV/aids: análise da integração de ações e serviços de saúde. Escola Anna Nery. 2018; 22(4): 1-7.
Domingues JP, Oliveira DC, Marques SC. Representações sociais da qualidade de vida de pessoas que vivem com HIV/AIDS. Texto & Contexto – Enfermagem. 2018; 27(2): 1-5.
Silva RM, Teixeira PJZ, Moreira JS. O escarro induzido no diagnóstico das doenças pulmonares em pacientes positivos ao vírus da imunodeficiência humana. Jornal Brasileiro de Pneumologia. 2004; 30 (5): 452-458.
Dulce GRC, López HAB, Sánchez HF, Gómez S. Gérmenes oportunistas en infección pulmonar asociadas a pacientes con VIH/ SIDA. Revista Universidad y Salud. 2011; 2(14): 50-59.
MUÑOZ FRG. Insuficiencia respiratória aguda. Acta MÉdica Peruana. 2010; 27(4):86-297.
Sarkar P, Rasheed HF. Clinical review: Respiratory failure in HIV-infected patients - a changing picture. Critical Care. 2013; 13(3): 228-233.
Pires P, Marques C, Masip J. Cânulas Nasais de Alto Fluxo: Uma Alternativa de Oxigenoterapia na Insuficiência Respiratória Aguda. Rev Soc Port Med Int. 2018; 25(2): p.123-133.
Nishimura M. High-Flow Nasal Cannula Oxygen Therapy in Adults: Physiological Benefits, Indication, Clinical Benefits, and Adverse Effects. Respiratory Care. 2016; 61(4): 529-541.
Dres M, Demoule A. What every intensivist should know about using high-flow nasal oxygen for critically ill patients. Rev Bras Ter Intensiva. 2017; 29(4):399-403.
Valero-Ortiz AS, Umbacía-Salas FA, Palencia-Mojica CL, Suárez-Saavedra MT, Silva-Rodríguez LJ. Uso de cánula nasal de alto flujo en falla respiratoria en adultos. Revista Investig Salud Univ Boyacá. 2019; 6 (1): 170-187.
Dumas G, Demoule A, Mokart D, Lemiale V, Nseir S, Argaud L et al. Center effect in intubation risk in critically ill immunocompromised patients with acute hypoxemic respiratory failure. Critical Care. 2019; 23(1):306.
Kang H, Zhao Z, Tong Z. Effect of High-Flow Nasal Cannula Oxygen Therapy in Immunocompromised Subjects With Acute Respiratory Failure. Respiratory Care. 2019; 65(2).
Cheng LC, Chang SP, Wang JJ, Hsiao SY, Lai CC, Chao CM. The Impact of High-Flow Nasal Cannula on the Outcome of Immunocompromised Patients with Acute Respiratory Failure: A Systematic Review and Meta-Analysis. Medicina (Kaunas). 2019; 55(10): 693.
Huang HB, Peng JM, Weng L, Liu GY, Du B. High-flow oxygen therapy in immunocompromised patients with acute respiratory failure: A review and meta-analysis. Journal of Critical Care. 2018; 43: 300–305.
Lopes SF, Araújo IMB. Oxigenoterapia por cânula nasal de alto fluxo: eficácia no doente crítico. Rev Invest Enferm. 2018; 2 (22): 21-30.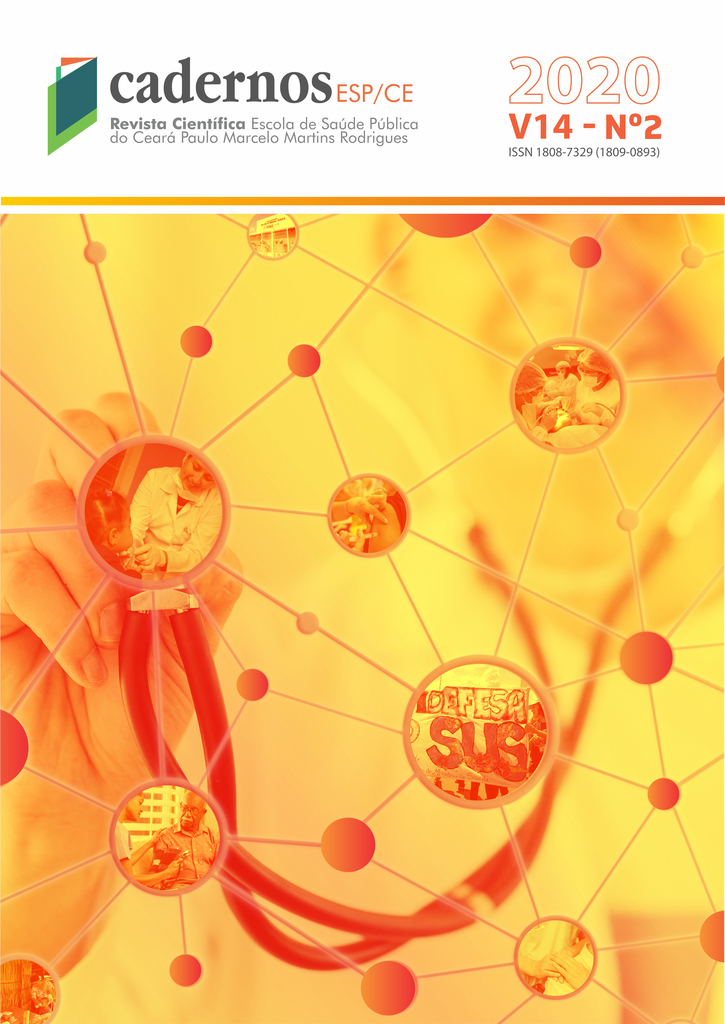 Copyright (c) 2020 Cadernos ESP
This work is licensed under a Creative Commons Attribution-NonCommercial 4.0 International License.